A linguistic anthropologist, Elizabeth Keating is a Professor in the Anthropology Department at the University of Texas at Austin. Her research specialty is culture and communication, and her research projects include investigations into power sharing, hierarchy, visual communication, inter-generational knowledge, and how new technologies influence our language practices. Her current research focuses on families, especially the rapid pace of cultural change, and how many families aren't aware that they are losing a precious family legacy–the cultural knowledge that's part of their own family's history. This is the topic of her new book, an anthropologist's guide to preserving the fascinating details of how our grandparents and parents came to be the people they are, what influenced them, what moved them, how they were raised, their beliefs.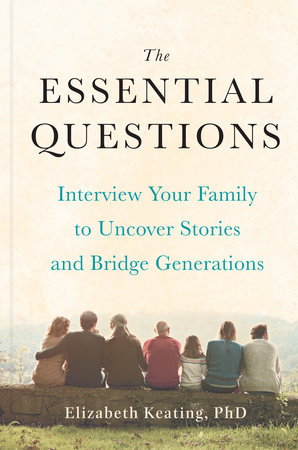 The Essential Questions: Interview Your Family to Uncover Stories and Bridge Generations (Penguin Random House) is scheduled for publication in November 2022. It's a guide for families to learn more about their family history, to make sure they don't find themselves saying "I wish I'd asked my mother that," or "I wish I knew more about granddad when he was a boy." In The Essential Questions she has developed a set of questions that treat your parents and grandparents not just as the people who raised you, but as individuals of a certain society and time, and as the children, teenagers, and young adults they once were.
What's being said about the book: "With an innovative angle and compelling storytelling, The Essential Questions is an accessible and super useful guide offering a multi-faceted, poignant inquiry into our life stories, memory, identity, family, and inter-generational connections. It has been a long time since I read a book that felt as urgent, timely, necessary, and utterly relatable throughout. A page-turner!" —Alexandra Georgakopoulou-Nunes, professor of discourse analysis and sociolinguistics, Kings College London
Her 2016 book, co-authored with Professor Sirkka Jarvenpaa, Words Matter: Communicating Effectively in the New Global Office (University of California Press) is based on research in four continents. In today's global economy, with multinational companies coordinating and collaborating with partners and clientele around the world, it's usually English that is the common language of business, research, technology, and finance. Many people assume that if everyone speaks English, information will be shared seamlessly and without any misunderstanding. But is that really true? Words Matter examines how communications between transnational partners can routinely break down, even when all parties are fluent English speakers. The end result is lost time, lost money, and even discord among those involved. What's going wrong? Contrary to common assumptions, language is never neutral. It is heavily influenced by our cultures and can often result in unintended meanings depending on word choice, a particular phrase, or even intonation. One study of corporate managers found that one out of five projects fail primarily because of ineffective transnational communication, resulting in the loss of millions of dollars.
"Words Matter addresses a core problem of real global interest—the common miscommunication associated with mediated collaborative work across national speech communities. Given the proliferation of such transnational groups, it is clear that the assumptions individuals bring to their business interactions—cognitive, emotional, personal—provide a rich and significant nexus for recognition, exploration, and for changing minds and practices. The authors write with spirit and insight. This is a very engaging read."—Don Brenneis, professor of anthropology, University of California Santa Cruz
Read her article in Sapiens Why Do Virtual Meetings Feel So Weird? October 20, 2020
Read an article about her work in Welt am Sonntag: Wie Sie das "Zoom-Fatigue-Syndrom" vermeiden (How to Avoid the "Zoom Fatigue Syndrome"), January 5, 2021
Read an Interview with Elizabeth on the CaMP Anthropology blog
Read about Words Matter on NY tech blog AlleyWatch and in the feature "Can We Talk?" in the University of Texas Austin Liberal Arts Spring 2017 Magazine Life and Letters
Listen to her talk about Words Matter on the Texas CEO Magazine podcast 
elizabeth.keating@austin.utexas.edu
Department of Anthropology
University of Texas at Austin Austin TX  78712